Located in Southern Spain's Andalusian Coast, the Costa del Sol is a favorite holiday destination, drawing travelers from all over with its rich culture, delicious gastronomy, and friendly people. In the province of Malaga, lies its famous town, Marbella, one of the most livable places with the touch of style and class that Spain is known of. A secret haven for super-rich Saudi princes, Hollywood stars, European royalty and billionaire tycoons.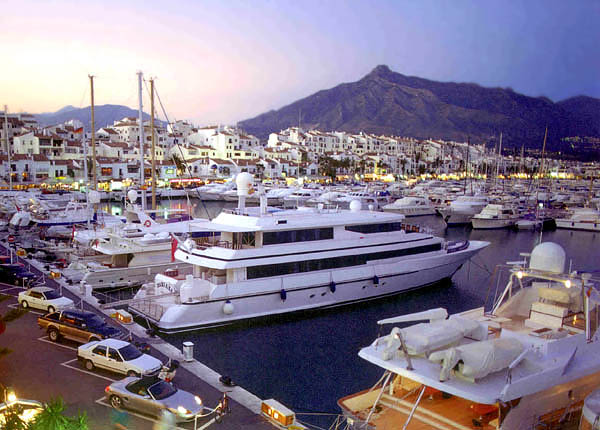 Puerto Banus, Marbella, Spain
This "playground of the rich and famous" has been the preferred summer destination of nobility like the Marquises of Ivanrei, and of Salamanca; and Prince Alfonso von Hohenlohe (of Germany). And while its reputation as the city of wealth sets it apart from the other coastal towns, Marbella has proven itself a reasonable, hospitable, and ideal home to people of different economic backgrounds and lifestyles.
Marbella
An easy drive from the Old Town Center is the famed Puerto Banus, founded businessman Jose Banus to provide "Marbella's international elite with a glamorous marina". Today the port brings to Marbella over four million visitors annually, among them Sean Connery, Julio Iglesias and Antonio Banderas. Royalty too is drawn to Puerto Banus. Princess Grace of Monaco was once a frequent guest and the Windsor occasionally visit.
Perhaps the first among equals is King Fahd of Saudi Arabia whose family still maintains a summer place in the Marbella hills and whose yacht "Shaf" is moored in port. To this day, and despite King Fahad's death in 2005, Marbella remains a popular destination for Arab oil magnates seeking to escape the summer heat in the Middle East.
Back in the old days, The Marbella Club was the hangout of Hollywood stars Audrey Hepburn, Cary Grant and Sir Laurence Olivier.
Wondering how expensive property can be in Marbella? A London estate agent said, 'Off the scale, you've got some of the richest people on Earth down there, and they will spend whatever it takes to be top dog. It's a very competitive place, full of rich, successful people all trying to out-do each other. And the best way to do it is with a bigger, flashier house than anyone else.' However, Crime writer Wensley Clarkson said, 'Drugs and crime drove the economy in Marbella and made it what it's become.
As for former Birmingham City soccer boss Karren Brady, 'Oh, there's a lot of serious wealth in Marbella, and they come down to Puerto Banus for the glamour, the yachts, the celebrities, the shops. There are two sides to this place. But both sides are quite fun. It's part euro, part trash.'